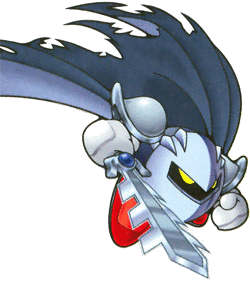 A dark Swordsman and the copy of Meta Knights evil side, Dark Meta Knight trapped Meta Knight in the Dimensional Mirror, but, Kirby saw right through DMK's disguise.
A few years after that, Dedede fought Dark Meta Knight at Royal Road, and defeated DMK with his star mallet! Dedede then proceeded to shatter the mirror, sealing him for good!
Ad blocker interference detected!
Wikia is a free-to-use site that makes money from advertising. We have a modified experience for viewers using ad blockers

Wikia is not accessible if you've made further modifications. Remove the custom ad blocker rule(s) and the page will load as expected.