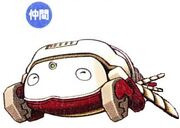 Gigaton
(known in Japan as
Gabun
) Is a giant, Bio-Mechanical Hermit Crab who Lives in the Depths of the Great Trench.
Gigaton may seem imposing, but he is a really big softie.
During the Event's of Starfy 3, The sea dragon, Bankirosu, somehow found his way into Gigaton's Intestines.
Also, Gigaton finds Rock N Roll more relaxing then Lullabies.