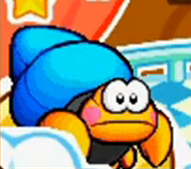 Herbert is the Yang to His Big Brother, Herman's Ying.
These two siblings were hatched from the same clutch of eggs, and were inseparable from day one!
Even though today, they live in different parts of Pop Star, they still visit each other, whenever possible.
Herbert used to hold the Pufftop Juggling record, until Starfy usurped him in a juggling contest.
Go figure.
Ad blocker interference detected!
Wikia is a free-to-use site that makes money from advertising. We have a modified experience for viewers using ad blockers

Wikia is not accessible if you've made further modifications. Remove the custom ad blocker rule(s) and the page will load as expected.