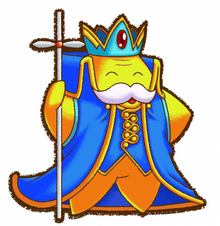 Gambrianus "Papa Star" Hoshi is the High King of the Pufftop Kingdom and fairest ruler for miles around.
His strength is the stuff of legends, and he helped defeat Ogura in the infamous "Blood War" sparked by Ogura, alongside Master Lobber.
He is wielder of a magic staff, called the "Imperial Cross".
Ad blocker interference detected!
Wikia is a free-to-use site that makes money from advertising. We have a modified experience for viewers using ad blockers

Wikia is not accessible if you've made further modifications. Remove the custom ad blocker rule(s) and the page will load as expected.