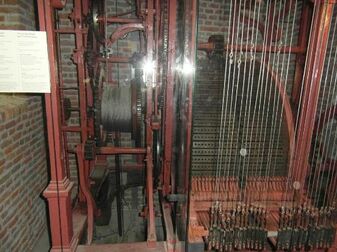 This ancient red painted cage of gears, wheels, levers, pulleys, wires and rods control the bells of the Melody Tower, and appear to be original to the Tower.
The Clock and Carillon drum are separate from the hour and half hour strike works, both being on separate tower floors.
Both sets of mechanisms are currently being restored, with new bushings, redone parts and the clock's previously inactive verge escapement being reinstated.
Ad blocker interference detected!
Wikia is a free-to-use site that makes money from advertising. We have a modified experience for viewers using ad blockers

Wikia is not accessible if you've made further modifications. Remove the custom ad blocker rule(s) and the page will load as expected.