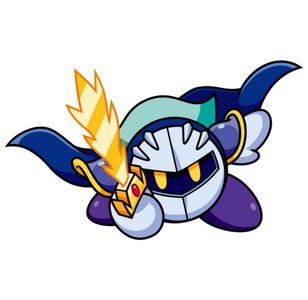 This honorable knight is seen in the fan game, The Legendary Starfy: Starfy's Great Adventure and has a supporting role in The Legendary Starfy: Halberd Havoc.
He is the Main Protagonist in Meta Knightmare: Revenge of Konk.
He is a boss in the game, Rainbow Rescue.
Originating in the game, Kirby's Adventure, he wields sacred sword, Galaxia. He is honorable and will offer a sword to his opponents so they can fight on even ground, but retreats from battle if his mask is damaged.
He looks very much like Kirby without his mask.
Ad blocker interference detected!
Wikia is a free-to-use site that makes money from advertising. We have a modified experience for viewers using ad blockers

Wikia is not accessible if you've made further modifications. Remove the custom ad blocker rule(s) and the page will load as expected.