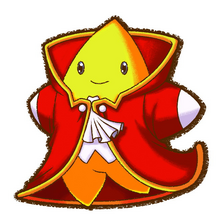 Maribelle "Mama Star" Hoshi is the Queen of Pufftop Palace alongside her husband, King Gambrianus "Papa Star" Hoshi.
She and Gambrianus sired two children, Starfy and Starly, the prince and princess respectively.
Maribelle is a kind woman, thoughtful and quiet, but not afraid to speak for herself.
She was once Kidnapped by Ogura, but was rescued by her son, Starfy.
To this day, she rules, training her children for the day they take over the throne.
Ad blocker interference detected!
Wikia is a free-to-use site that makes money from advertising. We have a modified experience for viewers using ad blockers

Wikia is not accessible if you've made further modifications. Remove the custom ad blocker rule(s) and the page will load as expected.