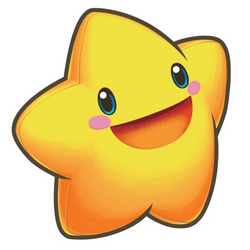 Prince Starfy Hoshi is a cute Starfish that goes on adventures in the Starfy series. His parents are named Papa Star and Mama Star, his sister is named Starly. Starfy is a hero, throughout Planet Pop star! Starfy has saved his homeland from total destruction, saved the Amiy Kingdom from a Tyrannical dictatorship and saved Planet Bunnera from total Annihilation!
Starfy is friends with Konk, Moe the clam and various others throughout the land.
If your in trouble, Starf's your man.....err......star......You know what i mean!
Ad blocker interference detected!
Wikia is a free-to-use site that makes money from advertising. We have a modified experience for viewers using ad blockers

Wikia is not accessible if you've made further modifications. Remove the custom ad blocker rule(s) and the page will load as expected.